Over the past decade, eCabs has grown and evolved to become Malta's leading ride-hailing firm, powered by the innovation of its sister company Cuorium Technologies. Key to this growth and success has been the development of a highly skilled multicultural team. As eCabs looks forward to international expansion, Business Today discusses the challenges and opportunities of building and leading the organization's team with Marvin Cuschieri, Chief Officer – People and Talent at eCabs and Cuorium Technologies.
Q: As eCabs and Cuorium Technologies look to expand internationally, you have been very pro-active in building a multicultural team. Why has this been a priority?
MC: Many companies in Malta have multicultural workforces but I think few have really embraced its benefits. We have never viewed bringing international workers on board as a kind of stop gap solution to meet demand. On the contrary, we believe that multiculturalism is essential for business success both in Malta and internationally, and we made it a business goal to build such a team. It's a fact that diverse teams are more creative. People from different backgrounds work and gain knowledge in varied ways, which is an enormous advantage for working groups that need to define the challenges they face and develop better solutions and drive innovation.
Our conviction that having a multicultural team is essential is backed up by the actions we took over the past two years. While many companies were focused on cutting costs, often leading to reduced working hours or redundancy for employees, eCabs invested more than €6 million into strengthening our technology teams. Without doubt we are now one of the biggest technology companies in Malta.
With more than 15 nationalities working in our team, we have the creativity and versatility in diversity, which encourages team members to reconsider their working habits and processes, making them more open to out of the box solutions. This has been a key factor in making eCabs and Cuorium Technologies a success and will act as the foundation we built for our international expansion.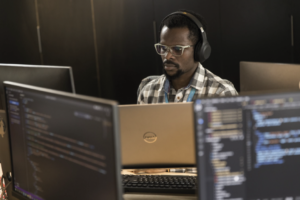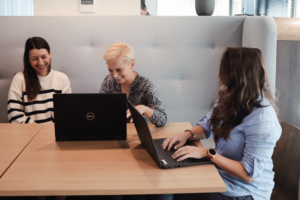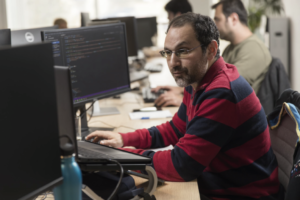 Q: The last few years have seen the rise of remote and flexible working. How has this change affected your ability to manage such a diverse team?  
MC: We took a decision early on to embrace remote and flexible working because of the obvious benefits it brings to both employees and the organization. Of course, you need to adapt but I believe we have done a good job at understanding how to build good communication and collaboration that works in a remote setting. This invaluable experience is unquestionably going to help us as we keep growing our international operation having enabled speed in decision making and communication. We have seen an increased focus on our product and service offering and resultant increased productivity, all thanks to the flexibility we offer team members. The ability to combine resources in Malta with remote resources has also helped us to partially address the scarcity of technological expertise in the Maltese labour market, whilst attracting technologists from different countries who have a keen interest in the tech mobility industry, pulling their respective experiences for our benefit.
To ensure long-term success we created the right communications frameworks and drove communication in corporate development and strategy to all teams. Going forward, we remain focused and committed to ensuring this effective communication with the team, and being flexible with their working needs to keep driving innovation and productivity.
Q: How do you expect the team at eCabs and Cuorium Technologies to continue evolving?  
MC: Our technology team, in particular, continues to grow as our plans to take the eCabs platform to new markets gather momentum. To manage this, we have set up a team of leads who coordinate larger teams in remote settings, ensuring that all team members are engaged and have the support they need to carry out their tasks. Our primary focus is to remove barriers our team members may encounter day-to-day. We are committed to guiding our teams and helping them understand, learn from their experiences and grow both professionally and personally. As a business, we embrace an agile approach to respond to market movements in the most expeditious manner possible. Quickness in data-backed decision-making sits at the very heart of the way we operate, and we make it possible with an open, two-way vertical and horizontal communication framework within the organisation. We provide open opportunities for our employees to contribute to the company's goals, giving them the ability to very quickly and frequently see tangible results from the work they are doing, which in turn helps us to reinforce a culture designed to add more value to people than processes.
Q: Where is all this focus on building a multicultural team leading eCabs?
MC: The investments we have made in Cuorium Technologies and in our team, mean that we are now a technology and software development business fully dedicated to the mobility sector, fed by the decade long experience of 24/7 operational excellence and a very crisp vision of technology-led mobility in the international arena. The motivated, multicultural team we have in place gives us the ability to pursue our international expansion objectives with more confidence. These are exciting times as we seek to make our platform available to fleets across the multiple international territories which are screaming with opportunities, of which there are aplenty. Whilst the global mobility sector is one that is growing steadily with several established brands in various markets, the opportunities for growth are immense. This sector will continue to offer great opportunities to anyone interested in machine learning, data science, cloud-based infrastructure, and mapping, to mention just a few. We believe our team is ready to compete, both in terms of knowledge and grit, and that its diversity will be a major component of our future success, enabling us to better understand end-user needs across the globe and improve our platform at speed. We have a great future ahead and in a few short years eCabs and in Cuorium Technologies will be established global players in the mobility sector.
In the press:
Business Today